PRE-BALLERINA DANCE CLASS
Calling all Little Pre-Ballerinas ages 2-3 years old! We have got just the dance class for the little ones! Meets every Tuesday 3:30 - 4:00 p.m. Give it a try and see if this class works for your little one who is dancing around the house!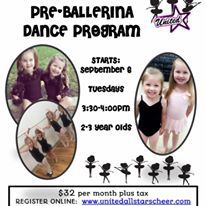 Youth Cheer University Winter Session
Join us for our 2nd Session/Winter Session! This new program was a HUGE success! We would love to have you join us! Register online!
Sign Up For A Free Class!
Welcome to United All Stars!
United All Stars is the home to over 200 competitive, all star prep, recreational cheer, and tumbling athletes along with now offering DANCE! The program is owned and operated by Mindy DeBaun and staffed by her husband Chuck, daughters Amanda and Jacey and some of the best coaches in Iowa.
At UAS, we pride ourselves on obtaining the highest level of training and certifications. All of our coaches are educated and credentialed by the United States All Star Federation. United All Stars is for the serious student who is committed to being the best AND also for the student who wants to just have fun with cheer, dance and tumbling! We are Fort Dodge's premier cheer, dance and tumbling All Star Gym.