Registration for ALL Summer and Fall Classes going on now!!
Summer Classes include Rec Cheer, Mommy & Me, Wicked Warrior, Tumbling and Dance Classes!!! Call the office for more details!!!
Summer Wicked Warrior Class
You asked for it - Here it is - United's Summer - WICKED WARRIOR CAMP is back by popular demand and we are doing a summer session every Wednesday from 1:30 - 2:30 p.m. starting June 21st and it goes for 6 weeks. Do you have a Warrior in your house that needs to be challenged?? We are recruiting kids 5-12 years old who are ready for a strength and endurance challenge with our first-ever Wicked Warrior Camp. Learn moves like a Ninja warrior, test your agility and balance all while moving through our warrior obstacle course and have an awesome experience while pushing your athleticism! A few of the obstacles include a "Incline Pursuit", "Hang Drill", "Tire Drill" and "Rope Glider" not to mention many more. Register online @ www.unitedallstarscheer.com under the "Services" tab. $70 per child - Register each child separately!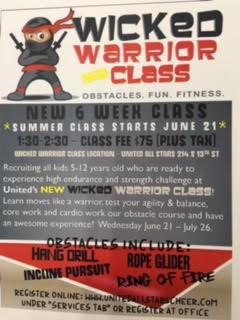 Youth Cheer University Fall 2017
United Youth Cheer University is a new 6 week cheer program with a low commitment of only 6 weeks! They will receive a team t-shirt and perform at the Triton Challenge cheer competition at Iowa Central! The class will teach stunting, basic tumbling, cheers and a dance! This is a great way to try out cheerleading without a long term commitment! Classes will be on Monday nights from 5:30 - 6:30 p.m. beginning Monday September 18th! Lots of fun while learning about cheerleading! We will offer several 6 week sessions throughout the year with a performance at the Triton Cheer Challenge competition at Iowa Central at the end of one of the session. If you are registering a second sibling you can do that while registering your first child, but we will go in and adjust the fee to half the price. See you soon!!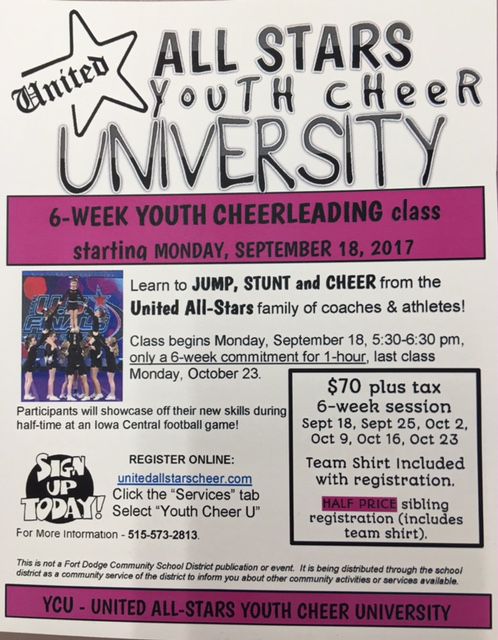 Sign Up For A Free Class!
Welcome to United All Stars!
United All Stars is the home to over 200 competitive, all star prep, recreational cheer, and tumbling athletes along with now offering DANCE! The program is owned and operated by Mindy DeBaun and staffed by her husband Chuck, daughters Amanda and Jacey and some of the best coaches in Iowa.
At UAS, we pride ourselves on obtaining the highest level of training and certifications. All of our coaches are educated and credentialed by the United States All Star Federation. United All Stars is for the serious student who is committed to being the best AND also for the student who wants to just have fun with cheer, dance and tumbling! We are Fort Dodge's premier cheer, dance and tumbling All Star Gym.